I tested lazyapply, the bot that applies to jobs automatically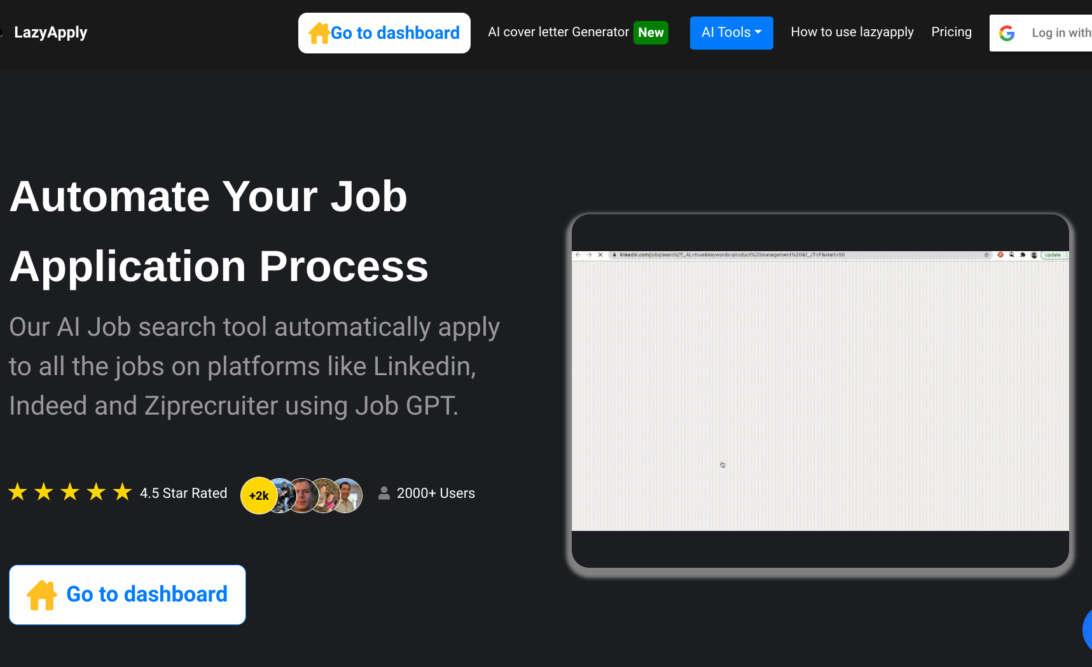 Introduction
I've long thought about the idea of developing a job application bot that can streamline the process on behalf of users. At first glance, it appears to be a relatively straightforward task, involving the same form over and over again. However, as I delved into the project, I encountered unexpected nuances and complexities that significantly complicated the execution.
The order of the questions in the forms constantly fluctuates. In certain cases, fields become mandatory, even when they aren't in other job application forms. What's particularly challenging is when they pose open-ended questions such as "Why do you believe you'd excel in this role?" Even more challenging is the inconsistent logic for applying; you don't always land directly on the application form. Sometimes, it takes one or even two additional clicks before you reach the actual application page.
Lazyapply.com
I stumbled upon lazyapply.com via a TikTok video, and I must say I was genuinely intrigued. The idea that a bot could handle job applications and answer all the required questions while I play video games seemed almost too good to be true. And all of this is promised under a $99 lifetime subscription. They offer an additional option for $129 to expand coverage to multiple platforms, but I opted to stick with the $99 plan and exclusively use it for LinkedIn.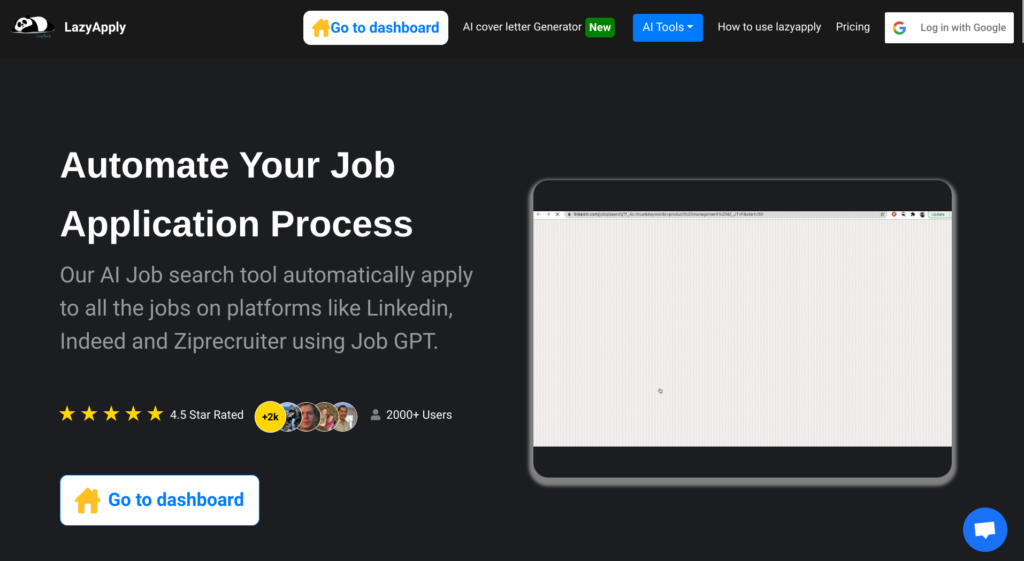 Similar to most platforms, Lazyapply prompts you to provide your personal information, along with the option to upload your CV and cover letter. Their algorithm for parsing the CV and auto-populating the fields stood out as remarkably effective. Even on the most sophisticated company websites, this algorithm often falls short, but Lazyapply's reader performed admirably, requiring only minimal edits to complete the final form.
Once you've completed these initial steps, you're all set to begin your job applications. You can specify the job titles you're interested in and apply filters based on criteria like the posting date, location, and salary expectations. Lazyapply takes it from there, seamlessly launching the LinkedIn application window and commencing the job application process.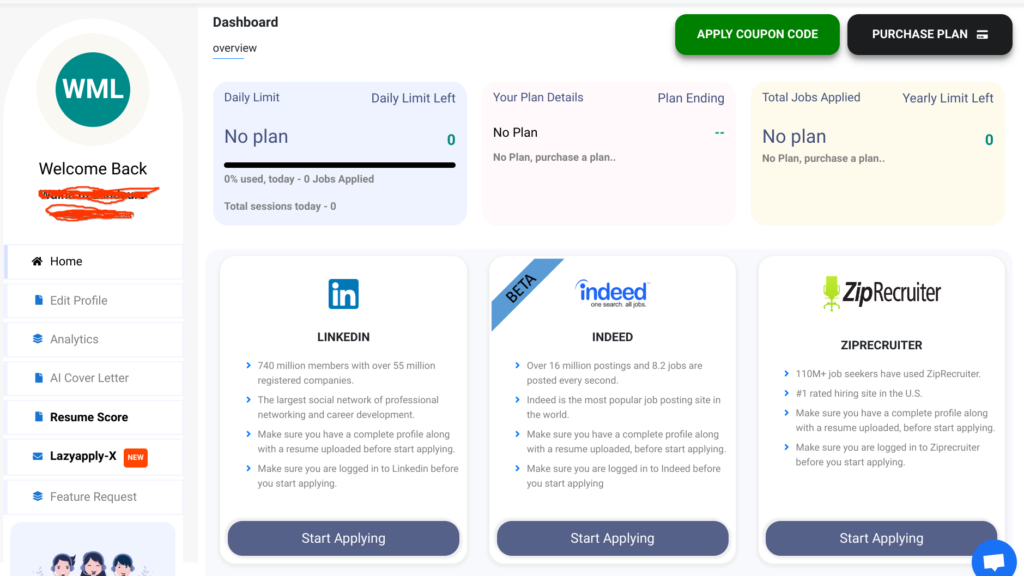 Results
Regrettably, I have to admit that my experience with Lazyapply left me somewhat disappointed. It became evident that Lazyapply exclusively functions with LinkedIn Easy Apply jobs, which, if you've been following this blog and are well-acquainted with the concept, is just great and can work to your advantage. However, I had anticipated the bot to extend its capabilities, applying to positions that offer at least the straightforward application forms found on platforms like Greenhouse, Lever, and others.
The bot also tended to apply for numerous "irrelevant" job listings that didn't align with my intended search. I believe this issue may not only lie with the bot but rather with the platforms themselves, as they sometimes display job postings that don't closely match your search criteria. Consequently, I found myself inadvertently applying for internships or co-founder positions, which were not in line with my preferences.
Furthermore, the bot seemed to struggle with certain nuances. For instance, when I applied for "Strategy & Operations" roles, it led me to apply for positions in property maintenance or manufacturing plant "Operations," which, while not necessarily a bot error, clearly didn't correspond to my interests.
Another drawback was the difficulty in specifying locations, requiring multiple manual searches for various locations like "Operations in SF" or "Operations in NYC."
Lastly, the bot applies using a web browser and automates button clicks, which meant the application window had to remain active for the bot to function. Consequently, I couldn't use the same machine for other tasks while the bot was running.
Despite the criticisms I've highlighted, Lazyapply did indeed deliver on its primary function – it efficiently applied to a substantial number of job positions in an impressively short timeframe. I'm still receiving rejection emails from applications I sent through the bot two weeks ago. Additionally, it even secured me a couple of interview opportunities, albeit for roles that didn't align with my preferences.
I also absolutely loved the analytics and reporting of the tool. It records all the jobs you apply to and even saves the link of the job description. This only is super valuable and I think a chorme extension which actually recors the jobs you apply to and get you some analytics would be already a really cool idea.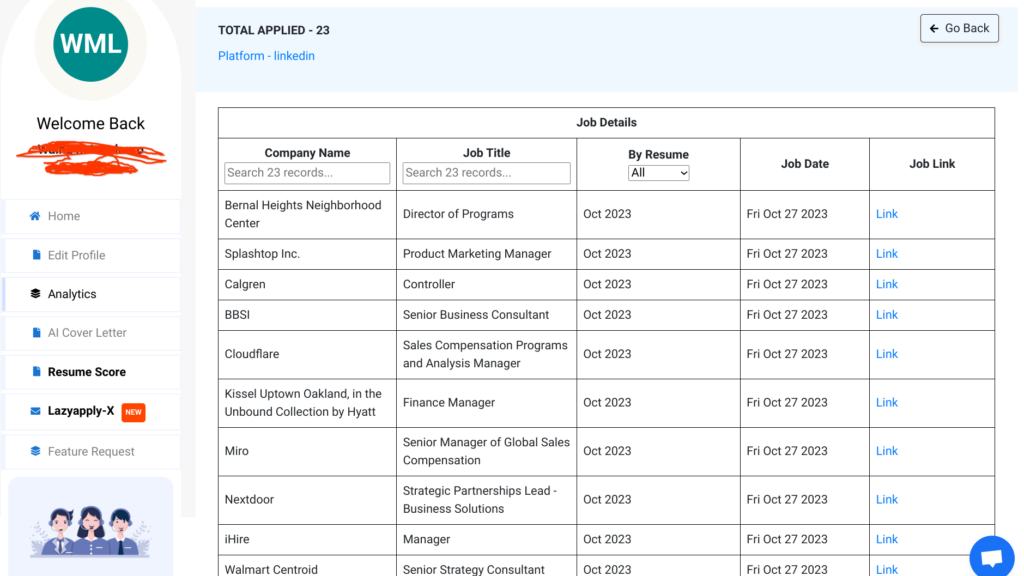 A great USP from lazyapply is that it uses ChatGPT to answer random questions. For example questions like 'why do you think you'd be a great operations manager" the bot uses your CV and cover letter to craft a few sentences to answer which is also really great. It is sometimes hit and miss, for example Easy apply has a lot of questions like "how much experience do you have in 6 sigma" obviously is something the bot doesn't know and doesn't understand so its answers are often non-sensical when the questions is very specific.
They also have a great 30 days money back guarantee. I tested it for a week and then asked for a refund as I didn't find it that relevant and they prompty refunded the money. If you're curious about it I really encourage you to test it out.
In essence, if I were in a situation of urgency and desperately needed employment, this bot would definitely work help you land a job. If you're in need of more curated and well thought career move this might not be the most effective tool in the shed.