Job Search During COVID Crisis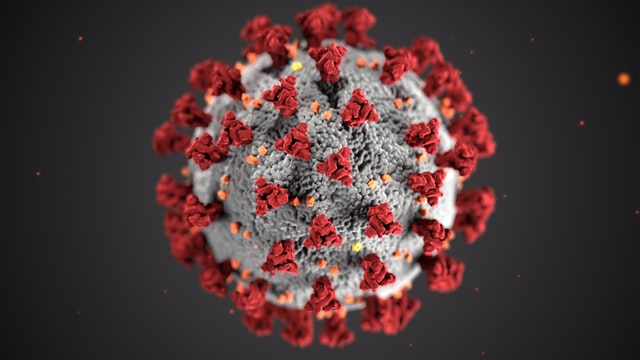 Intro
I graduated from my MBA in really strange circumstances. Classes had been moved online for 2 months and our graduation speech happened on Zoom. Saying it's was an anti-climatic end to those 2 years is a euphemism. Lots of people went home and I didn't get to say goodbye to most of my classmates.
Some of us did get an offer before the crises, others, like yours truly, have not found a job yet. I wanted to write a post on my job search process, maybe it can help some of you deal with stress but also find a job.
Job Portals and Job Boards
I spent an incredible amount of time on websites like Glassdoor, Indeed, LinkedIn to look for suitable jobs. It's really time-consuming and you end up in the dark hole of the internet applying for jobs you don't really want, in locations that you don't really love, for companies that don't interest you. I honestly applied to more than 100 jobs during the last months and I didn't get a single positive outcome out of them. I wrote countless cover letters and wasted my time copying over my CV in corporate portals more times that I'd like to admit. Some companies like Netflix, Salesforce and Amazon try to make the process transparent and fast, but still, I didn't pass the online application stage. As my classmate Joe puts it. "I kept talking to the big silence wall of applications".

Result: 2 stars. It's good to see who's hiring and what kind of jobs are out there, especially when considering moving locations. For landing a job, success was 0%.
LinkedIn Optimisation
I really have the perfect LinkedIn profile. My picture is professional thou slightly informal, my headline is totally on point and it's also full of recommendations. I receive so many messages from recruiters that I have to chose which offer I want LOL

Absolutely No-one
Recruiters don't look for you on LinkedIn. At this point, I wonder if they actually exist. I believe LinkedIn is important to have your profile up-to-date and tailored to the kind of jobs you want, but it's secondary. It's a tool recruiters use to verify your credentials and your connections. But recruiters don't randomly look for candidates on LinkedIn. Your profile will not 'attract' anyone unless you actively make them look for it.
To proactively seek job opportunities, There are a few tips that will make you stand out and find job opportunities better than your competitors. Everything is summarised in this online course that I strongly recommend. Among other things, it will teach you methods to network effectively, ways recruiters use LinkedIn, tips and tricks to find job opportunities, and ways to reach out to hiring managers directly.
Result: 3 stars. Great place to network, but LinkedIn per se will not help you find your job. It's a necessary evil to showcase yourself but finding a job is all about proactivity and personal grit. I'd give it 4 stars if you take the online class.
Startups
Startups are looking for help and potentially still hiring during those harsh times. The projects are usually interesting and dynamic. I love working for startups, but there is only one drawback. They don't pay. After all, we took loans and need some decent salary to pay them back. I would personally consider working for an early-stage startup after an MBA in only a few cases:
1. They pay a competitive salary (duh)
2. It's a temporary gig and I'm going to learn something new (EG product management)
3. They are in a location I'm interested in
4. The project speaks to me personally
5. They are about to raise a significant amount of money
Your Side Project
We all have lots of time on our hands. Isn't it the perfect time to develop, research and implement that business idea that we had for years? My advice is 100% YES.
I have been working on my project Mockmate.com for a few months now. It's an AI job interview simulator. During the crisis, I got some traction and I feel super motivated by it. I realised that if my creativity and drive are skills that will come handy later in my career and what better stories to tell than entrepreneurial endeavours?
I've always wanted to be a product manager, but it's extremely difficult to become one in companies like Google or Microsoft. With this side project, I became my own product manager and I'm building my own experience without being held-back by managers or company hierarchy.
Disclaimer: Startups are extremely risky and the project you start might side-track you and keep you away from your dream job. Make sure you keep applying and networking. Remember, right now this project is nothing more than a hobby. 4 stars.
Talk Directly to Recruiters
I have made a lot of contacts from my involvement in the Tech Club last year. Especially in the tech scene in Dublin. I thought this would add great value to my network. Turns out it didn't.
This is the way I initially did
1. Find a job on a corporate website
2. Contact a recruiter from that company and say something like: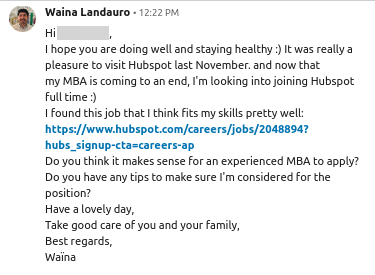 3. Wait for a reply to start a conversation.
Unfortunately, the messages I got from 90% of the recruiters were something like this: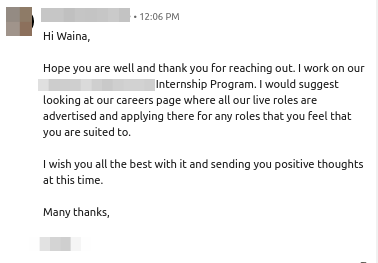 Basically, They say "Thanks for reaching out, but this is not my job. Just apply on the career site like everyone else".
It was literally impossible to get a referral from the recruiters I talked to in the past. Some were nicer and passed me along the line of other recruiters but nothing came out of it.

Result: 1 star. Useless and time-consuming. Maybe it works if you end up talking to the recruiter that actually recruits for the job you want. Hasn't happened yet.
Network, Network, Network
If you've read the article until there, you've probably figured it out. Networking is the only effective way to get a job. You need the referral to pass the application stage to the interview stage. The only job interviews I landed recently was only because of networking.

I recommend using the 2 Hour Job Search method. It's a great book and an easy read. It will teach you the basics of which companies to focus on and not lose your time on sites like Glassdoor or Indeed.
There are two sources of networking for me after my MBA at IESE.
1. All the contacts I made at Google during my summer internship
2. IESE alumni that work in my target companies.
From those two sources, people have been a tremendous help and I did manage to land a few interviews and progress in the hiring stages. I'm not yet at the end of the road, but after spending 2 months applying for jobs, I must say that's the only way that has worked.
Result: 4 stars. Networking is definitely the way to go. It's a lot of work and requires being vulnerable and putting yourself out there. But It is effective.
Conclusion
It's definitely not easy to find a job during the COVID Crisis. The methods above are just some things I tried out. Hopefully, it will save you some time and help you come up with your own strategy.

I suggest you have a look at Tulio Prado's video series on COVID where he analyses the trends in different industries and interviews actors from the sector. Super insightful and great initiative from a classmate. I'd also suggest you read this post about online tools to make your job search easier.

Eventually, I'm convinced you'll find a job. You're resourceful and smart. It's just going to take longer than normal. Let me know what you think of this article and share your tips with others! Good luck!