Arsène Wenger's Talk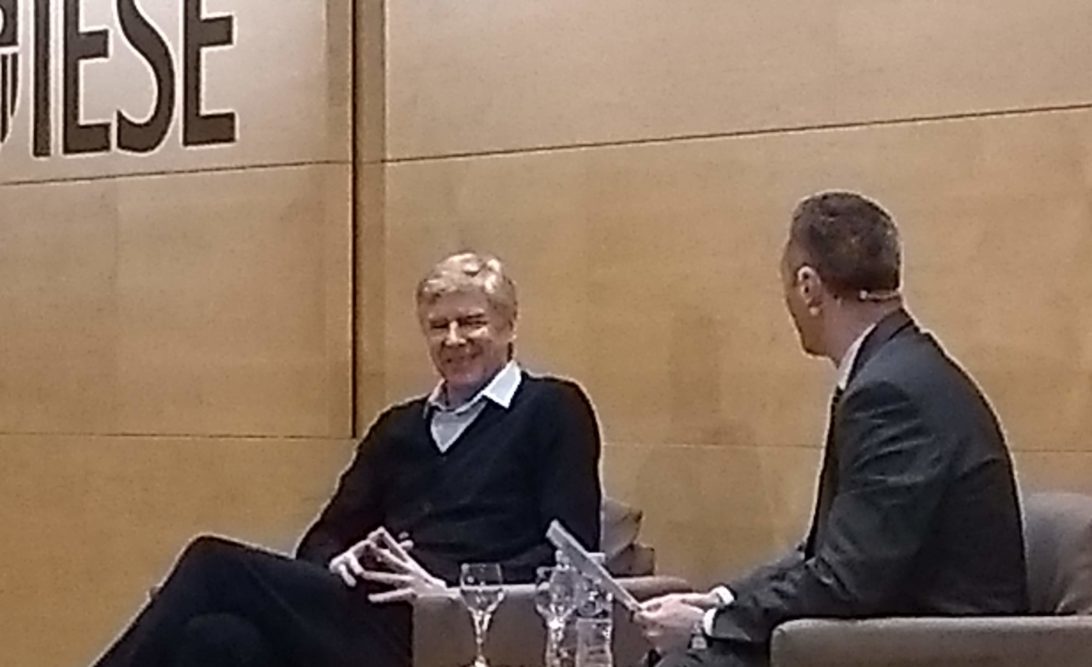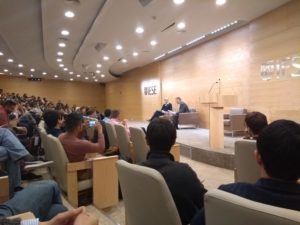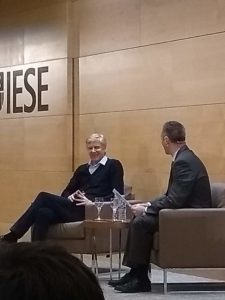 Mr Arsène Wenger has given us the pleasure to come to talk to the IESE crowd in November 2018.
The auditorium was packed with students and academics ready to listen to "Le Professeur".
Mr Wenger quickly took control of the conversation from our host and talked to us about what he believes is the core of managerial excellence.  He told us that humility and honesty were the most important qualities of a good manager. He also told us that understanding the mechanisms behind the motivation of each player also helped him achieve his objectives.
"I believe some countries are better at humility than others. France, we are not very good at it."

"If I chose my ego over the game, I betray the game"

"Football is a collective sport played by very selfish people. My job is to hide it."

"Usually a defender is a guy that hates to lose. A striker is a guy who loves to win".
He recalled how his job changed from being a manager of a struggling club to one of a super-money-making machine. He recalled how his decisions influenced the several hundred million dollar deal for the construction of the new Stadium.
He told us how hard the career could be for players. Sometimes you train with the players, but you never make it to the games because the pool of players is so talented. You are expected to perform to the best of your abilities, but that is maybe not enough to get you to play. It means it can get very frustrating, as players only are happy when they actually play the matches. There could be months before you actually make it to the pitch (if ever).
"You give a 100% every day to get land the job [to participate to the games on Saturday]. If you don't get the job, you're fired until Monday where you are expected to give 100%. It can be very frustrating"

"The ones who succeed are rarely the ones who don't persevere".

"If you wake up in the morning and you realise you prefer staying in bed than to wake up and fight, maybe you are not doing the right thing."
Mr Wenger told us that money has really changed the industry. In the past, the players were the most important indicator in the performance of clubs. Now, because clubs have so many resources, the clubs are expected to make everything possible to accommodate the players they purchase.
"Football has moved from a place where when the player was not performing, it was the fault of the player. Now [because of the money] it's the club that is guilty."
Finally, Mr Wenger sent a message of hope for younger generations. For him, they are the future of the industry and he emphasizes youth training and education. He mentioned that some clubs treat their young players poorly and told us appalling statistics about the numbers of players still in the game after 23 years old. The message was that poor considerations of younger players need to change and that clubs should stop destroying dreams of a younger generation.
"Football has a problem today to give false hope to young players on loan. We should not play poker with player's lives."
Waïna Landauro is driven to work for good, using technology through business. IESE MBA class of 2020, Google internship summer 2019, and ASICS startup adviser, he loves to be around smart and driven people. He's currently looking for his next role – starting April 2020.