Find your summer internship with Linkedin automation
The idea
Starting on the first of January, I sent 1511 automated messages to wish a happy new year to my entire list of linkedin contacts.
Happy New Year [firstname]! I hope 2019 brings you everything you desire professionally. 2018 has been great for me, with all the travels to serve my clients and eventually the start of my MBA in September. I hope in 2019 to find a meaningful internship for the summer and keep growing and learning for my peers. Have a great year! Waïna
The message is generic enough to have been sent manually. It tells a quick story of what I have been doing and what I'm up to now. But especially it tells the reader what I'm looking for but without asking directly.
This idea was suggested by Meg (my lovely wife) after she attended the conference of a "growth hacker". He claimed that by doing this to his 3000 contacts, he generated interest and in the end managed to sell his marketing firm to a lot of leads coming from this campaign, so I decided to experiment.
Linkedin Helper and the method
As we trained like crazy during the MBA to optimise our LinkedIn pages and I figured why not use the Linkedin Professional Network to actually Network (and try to automate it in the meantime). In order to do that, I subscribed to Linkedin Helper. (I also tried Dux Soup, but Linkedin helper had a 14 days free trial and had tons of videos to help me figure it out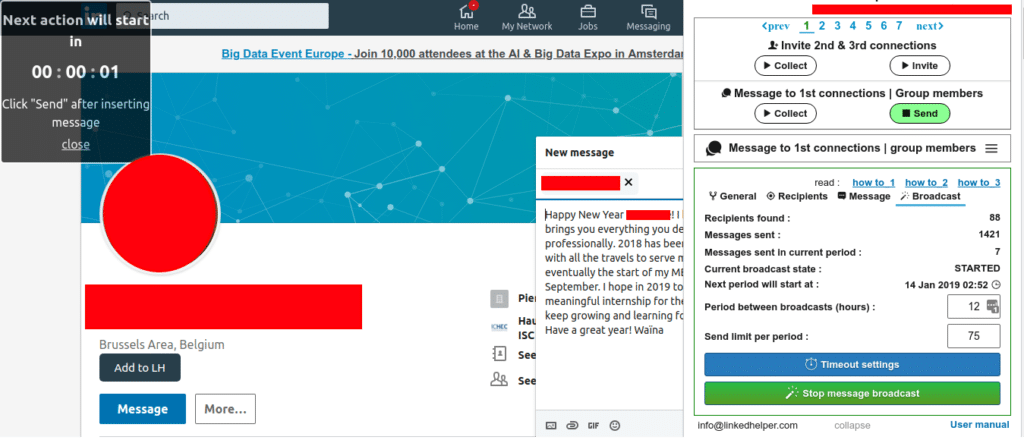 Basically, Linkedin Helper is a chrome extension that helps you look for the contacts and automatically clicks and sends a message every defined interval.
The system is not perfect, as it is quite difficult to build different lists, address people directly with relevant functions (recruiter for example) or company. For a general happy new year message, though, it's probably enough.
But let's say you want to create lists of different type of people (for example startups and bigger corporations) It might be a lot more difficult. Or If I had wanted to send a different message for the people back in Belgium and the newer ones I met in Barcelona. I'm sure it's possible, but it might be very time-consuming.
Another problem with Linkedin Helper is that it seems it cannot really work without the screen to be active. It's quite hard to let run in the background so I had to use a second screen to make sure the script runs all the time.
Finally, Linkedin Itself seems to have protection against spamming. so you can't actually let the program run all the time. The program shuts itself after 75 messages sent every 12 hours. So the entire campaign took me more than 10 days to broadcast. I managed to shorten it a bit and start the process manually a few times, but I got kicked out of Linkedin twice for trying too much.
The results
Here are the metrics from the campaign:
Among the 1511 messages, I received at least 295 replies (some are still incoming). The replies were usually super friendly and genuine.


From all the replies, I actually received around 30 messages (and counting) from people actively seeking to help me find an internship or giving me an offer straight away. These results are really impressive, considering the little work I put into it.
Very few people felt alienated by the automation. I really don't feel bad about sending automatic messages. The first reason is that I mean what I'm saying, the message is genuine. It's not a totally random topic and it does not sell anything directly. My contacts also opted in when they accepted my invitation request, so this doesn't really qualify as spam.
In conclusion, Linkedin Helper itself is not perfect. There is a lot of flaws and it's certainly not easy to use. But I got an amazing rate of replies. People seem not to mind that the messages were automated, and they were (mostly) very friendly in their response. Some even went as far as offering me an internship on the spot.



I was only looking to reconnect with my network and get some intel about possible internships. I imagine that if I was selling something this would help tremendously. Some of the messages I received was about my previous activity and they asked me if I was still in the consulting game.
Thanks to this little experiment, I already had interaction with my every single member of my Network in 2019 which is probably more than anyone else can say. I also managed to reconnect with long lost contacts, like university friends and old colleagues. I can't wait to follow up on all the leads I got and grow my network even more!